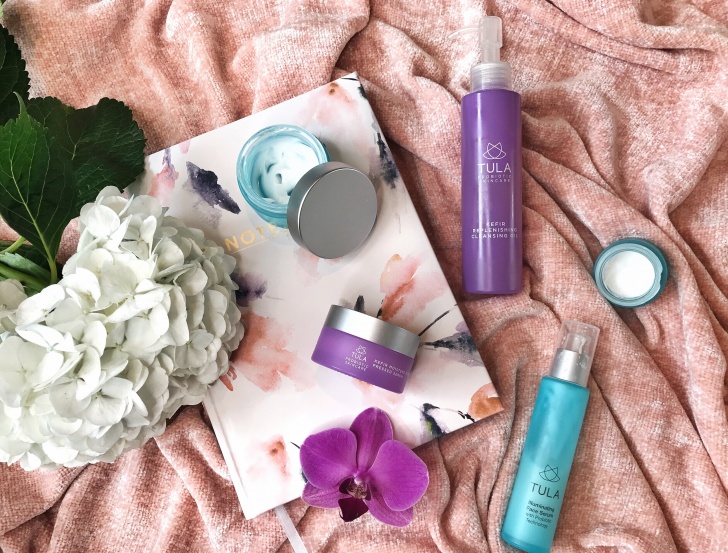 I'm a routine kind of girl. I love the feeling of taking my makeup off at night, and knowing I get to pamper myself with my favorite products before I crawl into bed. I've shared a few skincare posts in the past, but you guys have been asking for an update like crazy, so I thought it was about time to spill the beans on my current day and night routines.
Those of you who have been reading BYOB for awhile now know that the majority of the products I use (with a few exceptions) are by Tula, a brand I've totally fallen in love with over the past few years. Crazy to think that I've been using their products for about 2 years now but hey, if it ain't broke! Speaking of things that are crazy to think about, I am approaching the big 3-0 this October. I started my anti-aging skincare routine in my early 20's and can truly say that having a routine that works has made all the difference in helping my skin remain as youthful, hydrated, and healthy as possible! All I can say is, if you haven't started a routine yet, don't sweat it, just start now and thank me later.
Many of the products in my routine are tried-and-true favorites, and a few are new additions that I can't wait to share! Recently, Tula reached out to tell me that they were launching a new line of products using Kefir. If you aren't familiar with Kefir (I wasn't), it's a fermented milk drink, similar to yogurt that has a ton of hydrating properties and is (like their other products) probiotic. Tula knows how obsessed I am with their products and reached out to ask if I wanted launch their two newbies here first, with a discount code, for my readers only! OF COURSE, I said yes haha.
Code: COURTNEYNEW20 (it's case sensitive btw, so make sure you use all caps)
Without further adieu, my updated day and night routines…
// MORNING ROUTINE //
I wake up around 6:30 AM for the gym during the week, and usually just splash my face with a little water before heading out. Since I typically workout first thing in the morning, I know I will just be showering when I get home, so I wait to apply then. If I don't workout that day or on the weekend, I just go straight into my routine.
// NIGHT ROUTINE //
Here is where I like to take a little extra time to pamper and really treat my skin and have a little relaxing 'me time.' Something tells me that I'll enjoy this even more when baby girl gets here haha 🙂
SaveSave
As far as my everyday routine, that's a step-by-step account of what I do! Since I got so many questions recently, I wanted this post to be kind of like a one-stop shop for everything that y'all would want to know! So, I've including a few products that aren't necessarily in my daily routine, but that I love and use on an as-needed basis as well.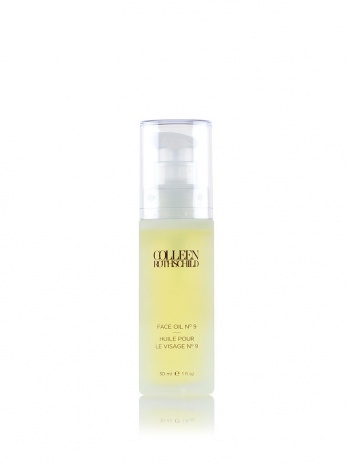 A few times a week or on an as needed basis, I apply a little bit of this oil and massage it into my skin. This is really where I take a little time to work the product in and stimulate my face! Massaging your face is great for anti-aging! It helps to bring oxygen to the skin and increases blood flow, which helps it act as a natural (and free) form of anti-aging. I like to do this with my hands and my jade roller (I'll include it below). On days when I don't use this oil, I make sure to massage the Kefir Moisture Repair Pressed Serum in to my skin.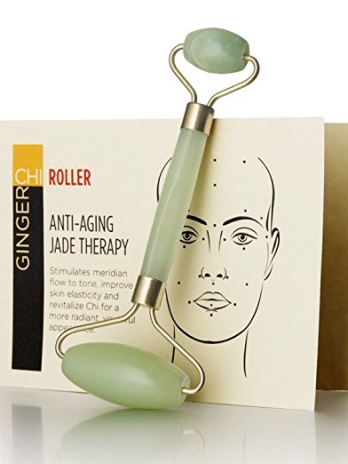 I shared this in a recent "Amazon Finds" post. I love using it to massage products (mostly oil or serums) into my skin for the aforementioned reasons.
That's everything for now, beauties! I hope this helps and answers all of your questions. If I missed anything, feel free to comment and I'd be happy to answer. What are your must-have products?