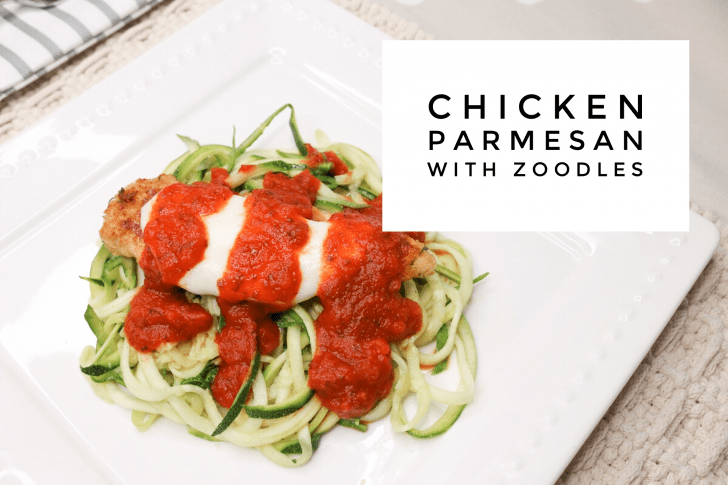 Lately, I've learned something about myself: I do in fact like to cook, I just don't love following recipes. The same goes for directions, instructions etc., so this isn't all that surprising! I'm not totally anti-recipe, but there are certain types that just seem to be unnecessarily complicated. You know the ones? They feel like they have about one hundred ingredients and I find myself getting overwhelmed by the list alone, forget the actual cooking part.
If you've been following me for a while now, you may remember that I shared I wanted to step up what I like to call my "wife life" game about a year or so ago and that includes cooking. For a while, I thought maybe I just didn't love to cook…that was until I had the aforementioned epiphany! So, recently, I've been cooking more frequently, but with my own, keep it simple, philosophy in mind.
I've been excited to share this recipe for a few reasons: it's easy, it's insanely delicious, and I made it up! Although, I'm sure I'm not the first person to think of this idea, I didn't see a recipe for this anywhere and actually thought of the idea while driving to the store last week. All of a sudden, I started craving Parmesan chicken (#pregnancy), but wanted to think of a way to make it easier, i.e. quicker and healthier.
WHAT YOU'LL NEED
Chicken – I prefer the boneless, skinless kind and usually go for the chicken fingers.
2 Eggs
Some breadcrumbs – we do the Italian kind, but total personally preference. I don't measure, but probably about a cup
Flour
Parmesan – I just get the good ol' shaky kind for this (It's used to bread the chicken)
Zucchini Squash – We usually get the ones from Trader Joe's and they come in a pack of 4.
Pasta Sauce
Fresh Mozzarella
Olive oil + butter – just a little to cook in
Of course, adjust these amounts depending on how many people you're serving or how much you eat! We like to make a little extra and have the chicken for lunch.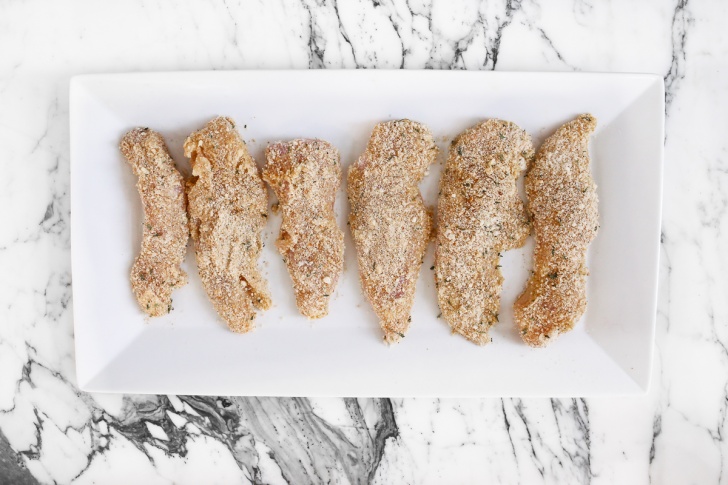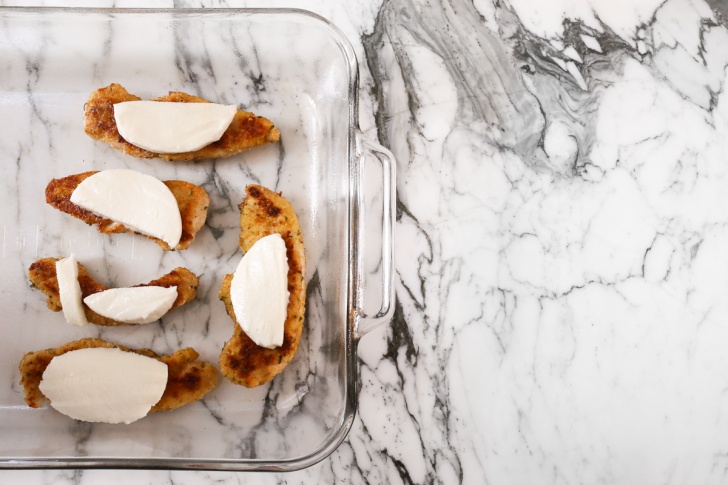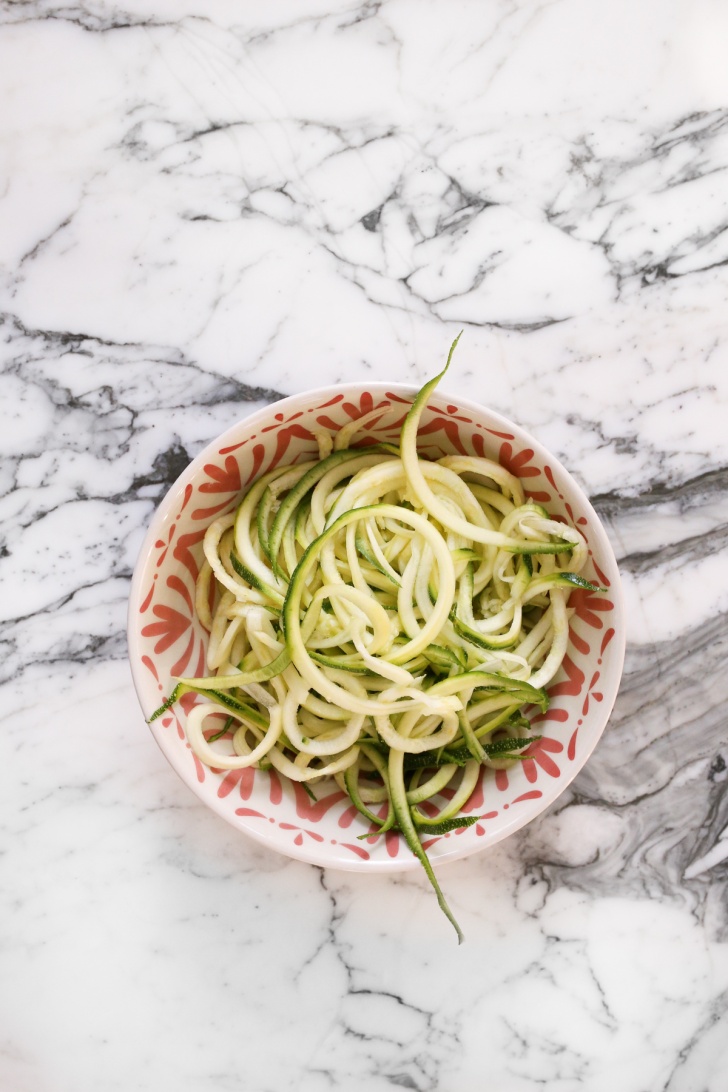 INSTRUCTIONS
First, set up what I like to call the 'chicken assembly line!' This recipe/method of breading is one that I got from my Mom (y'all know, she is cooking #goals) that we use quite often for different dishes. You'll want to set out three dishes, each will house something to dip the chicken in. Add some flour to the first dish (just eyeball it, probably about a cup). Crack two eggs, whisk, and put them in the second dish. For the third, mix half bread crumbs and half Parmesan cheese – about a half cup to cup of each).
Start to bread the chicken. Take your first piece and gently coat each side in flour. Then, dip it in the egg, and let it drip off for a second. Lastly, dip each side in the bread crumb/Parmesan mixture, and set the breaded chicken aside on a plate or cookie sheet! Repeat these steps until each piece of chicken is coated on both sides! Once they are, place the cookie sheet or plate in the fridge. TIP: Put the coated pieces of chicken in the fridge for about an hour to help ensure that the coating sticks! 
While you wait, 'zoodle' all the zucchini and put aside.
Heat up a skillet, using half butter and half olive oil. Cook the chicken all the way (I like the breading to have a nice golden look).
Turn on the oven and set to broil. Once the chicken is cooked, slice the mozzarella, and lay a piece on top of each piece of chicken. Place them in the oven for a few minutes! Everyone's oven is little different, but just watch it and see when the mozzarella has melted. It will only take a few minutes!
Meanwhile, heat up the can of pasta sauce to warm and blanch the zoodles. We usually cook our zucchini noodles in a bit of olive oil, for just a few minutes.
Everything should be done at about the same time! To plate, start with the zucchini noodles, then add the chicken and top with sauce. It's super easy and beyond good! I tried it for the first time last week and we decided to make it again last night.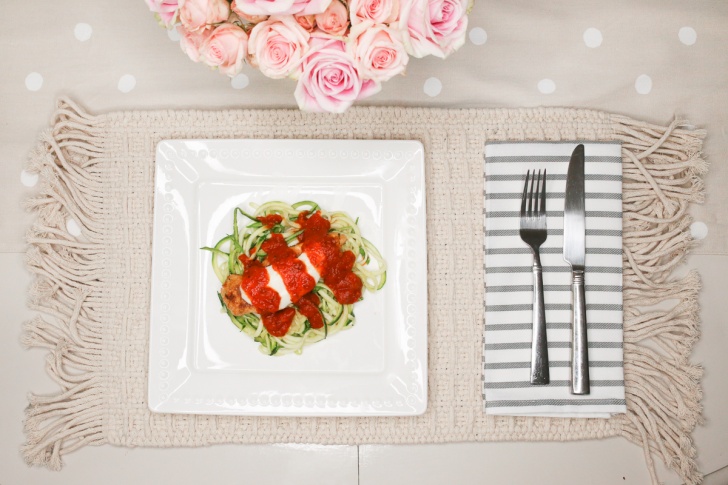 I received a bunch of requests for this recipe (and more recipes here on BYOB), so I hope you like it and will try it out! Do you have any easy/go-to recipes for summer?