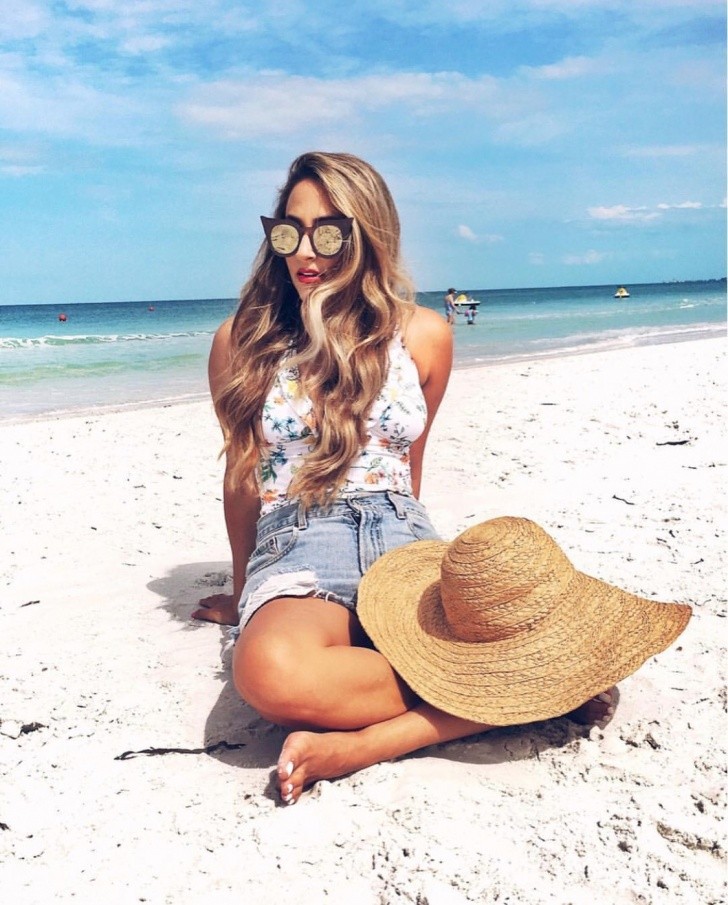 With summer right around the corner (pool parties, long days) and festival season in full swing, I need my makeup to last all day. So lately, I've been on the hunt for the perfect combination of products that won't budge no matter the conditions. If you guys are following along on my socials (everything listed on the blog, if you aren't!), then you know that last week was SXSW is Austin. SX always means lots of fun, but extra-long days (mostly outside). After a lot of trial and error, I've found product combinations that last all day and make for the perfect, no fuss, go-to routine. Whether you work in an office 9-5pm, you're in school full time, you're a stay at home mom or you're just a girl on the go – we all want our makeup to last – and who really has time to touch up during the day?!
Tip #1 – On long days, less is more!
STEP 1 // Primer
Now, I love a good glowy primer, but for days when I want my makeup to stay put, I go for something that will smooth my foundation and hold down foundation down. This one is my current favorite. It mattifies me just enough to make sure that no mid-day t-zone oil comes through, but it doesn't take the life out of my skin. Bonus – it has SPF.
STEP 2 // Foundation or CC Cream
When it comes to foundation, I stick to my tried-and-true products: this or this. Both have enough coverage to even out my skin without looking cakey.
STEP 3 // Concealer
For all-day wear I have two current favorites: this one for days when I got less sleep and need more help (i.e. usually) or this one for when I'm going for a really natural, barely there look.
STEP 4 // Set with a little powder
Lately, my absolute favorite has been this one by La Mer. It's very pricey as far as powder goes, but it has skincare benefits and is honestly the best loose powder I've ever tried (and that's saying a lot), so totally worth it in my opinion! I purchased it a few weeks ago for the first time and will definitely be repurchasing when I run out!
I take a small amount on my damp beauty blender and press it into my under-eyes to set my concealer. Then, I take a fluffy face brush and dust a bit in my t-zone. If you're super dry you can skip this setting your face. If you're super oily, I'd recommend setting the whole face. You can play around with this and see what works best for you! I'm normal to dry, so I tend to just set a tiny bit.
STEP 5 // Bronze + Blush
Add a bit of your favorite bronzer (this one is super affordable and smells amazing!) and blush!
STEP 6 // Eyes
I like to prime my eyes with this primer to make sure the shadow stays all day and doesn't crease. Once I've primed, I take a bit of the powder I used to set and then dust a bit of my bronzer back and forth in the crease. This adds dimension but is super quick and easy! I top it all off with my full mascara routine. If you missed it, you can watch it here.
STEP 7 // Lips
When it comes to a lip that lasts for hours, liquid lipstick is the only way to go! The past two weeks, you guys have been asking what has been on my lips like crazy and it's almost always this in the shade "melon". It's my current favorite for so many reasons! It lasts for hours, even through eating and isn't overly drying.
STEP 8 // Setting spray
The last and final step to makeup all-day success is a setting spray! Setting sprays lock your makeup in (kind of like a hairspray for your face ha), and also help any powders sink in and become one with your skin.
With this new routine, my makeup lasts all day, without touchups! What are your favorite products?