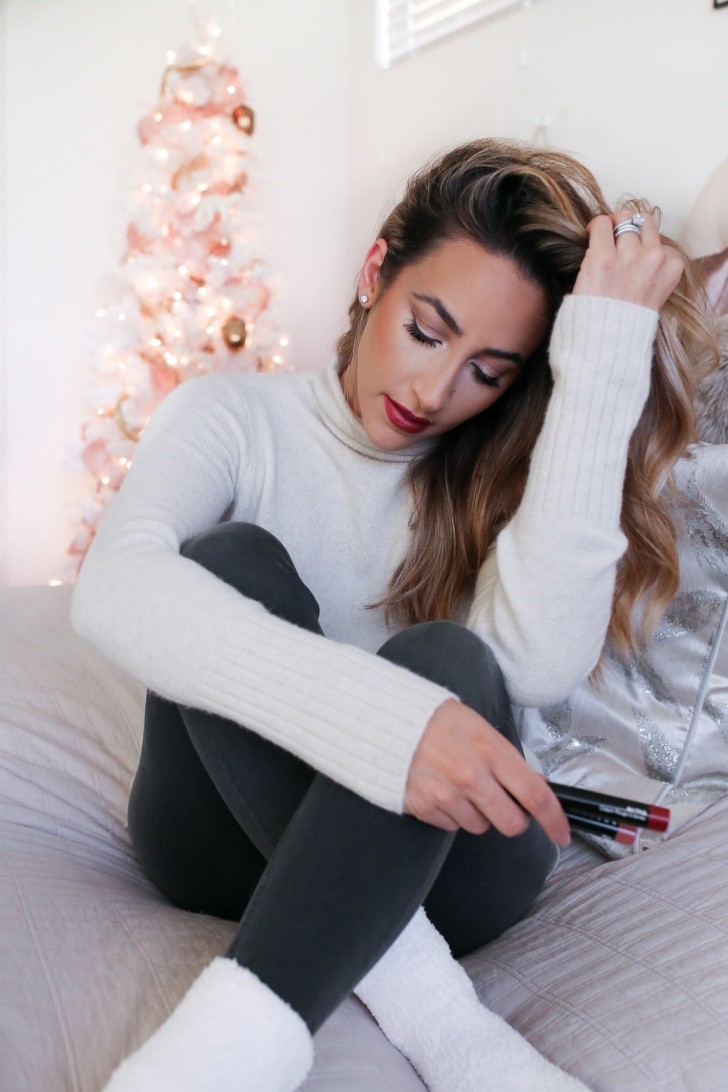 Every year Alex and I spend Thanksgiving at one of my favorite places on earth, my parent's house. If you guys have been following along for a while, then you may have heard me talk about how my Mom is goals (literally), so holidays at their house are unparalleled! I'm usually in charge of making the green bean casserole, helping with a few pies and assisting as needed. Since we celebrate at my parent's house every year, I aim to be festive yet cozy. Because let's face it, being comfortable on a holiday notorious for overeating is a major must!
I know I'm not alone when I say that this time of year is extra crazy and anything we can do to make life a little easier and less hectic, we should do. So when looking for the perfect Thanksgiving ensemble, Nordstrom is my go-to! Nordstrom's shipping is speedy, their customer service is amazing and I can get my outfit and beauty all in one place.
When setting out to find the perfect turkey day lip color, I considered two main things: longevity and color. I want the shade to feel "fall-ish" but be fairly low maintenance and of course, last a long time! After testing a ton of different formulas for the perfect Thanksgiving approved pout, I fell in love with these from Bobbi Brown. The formula is unlike any other lip product I've tried. Imagine if a lip liner and a lipstick had a baby…that's what these are and let me tell you, they are the bomb. They're an all-in-one, no liner required formula, so they're perfect for the holiday season! I'm someone who always wears a lip liner with my lipsticks and these are the only formula I've tried where I truly don't need to. Since they aren't a liquid lip, I don't find them to be drying at all (they're formulated with shea butter to hydrate) but they're not overly creamy, making them long-wearing and a lot less messy than traditional lipsticks.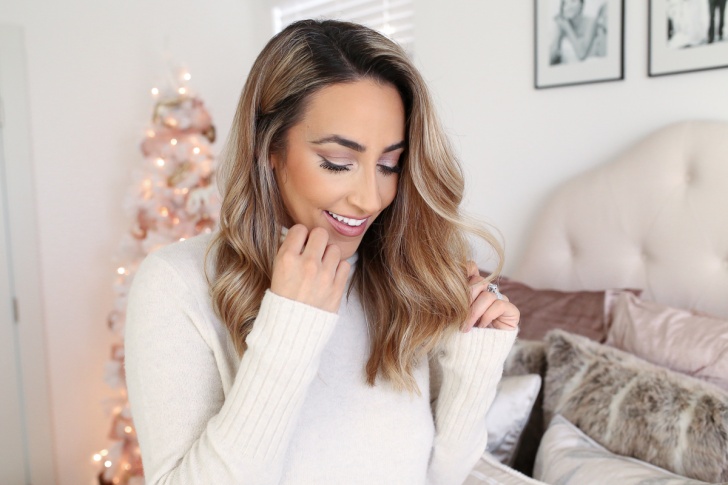 "Bare" and "Cassis" are two of my favorites! Bare is the most stunning nude and has quickly become one of my favorite everyday shades. To me, it's the perfect "my lips" type shade. I love it because it pulls the look together and helps everything feel polished, but is super low maintenance! I have a lot (and I do mean a lot) of nude lipsticks and something about this one is different. If you're a pink girl, but want a warmer more fall pink, try "Dusty Pink".
For the eyes, I went with my favorite little quad of the moment in the shade "Vintage Vamp". Day or night, I've been reaching for this baby non-stop lately. It's perfect for the holiday seasons: Thanksgiving, holiday parties or an everyday glam! I'm planning on using it in a few upcoming tutorials so stay tuned for that :). I topped it off with a this liner in the shade "Elizabeth Violet".
Celebrating at home means it's a-ok to be extra comfortable! I like to do that two ways – a cozy sweater and fuzzy socks. This sweater is the perfect balance of cozy and chic, my kinda sweater. I also love it in burgundy and grey.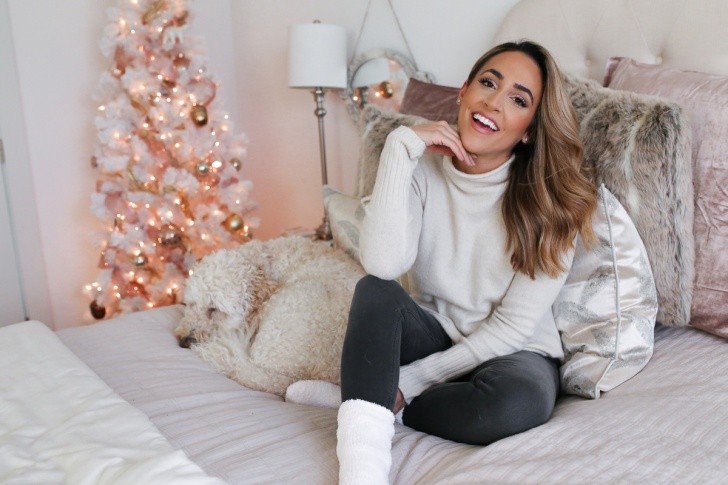 Shop the rest of my outfit and Thanksgiving beauty picks from Nordstrom all below.
Thank you to Nordstrom for sponsoring this post, all opinions are my own!