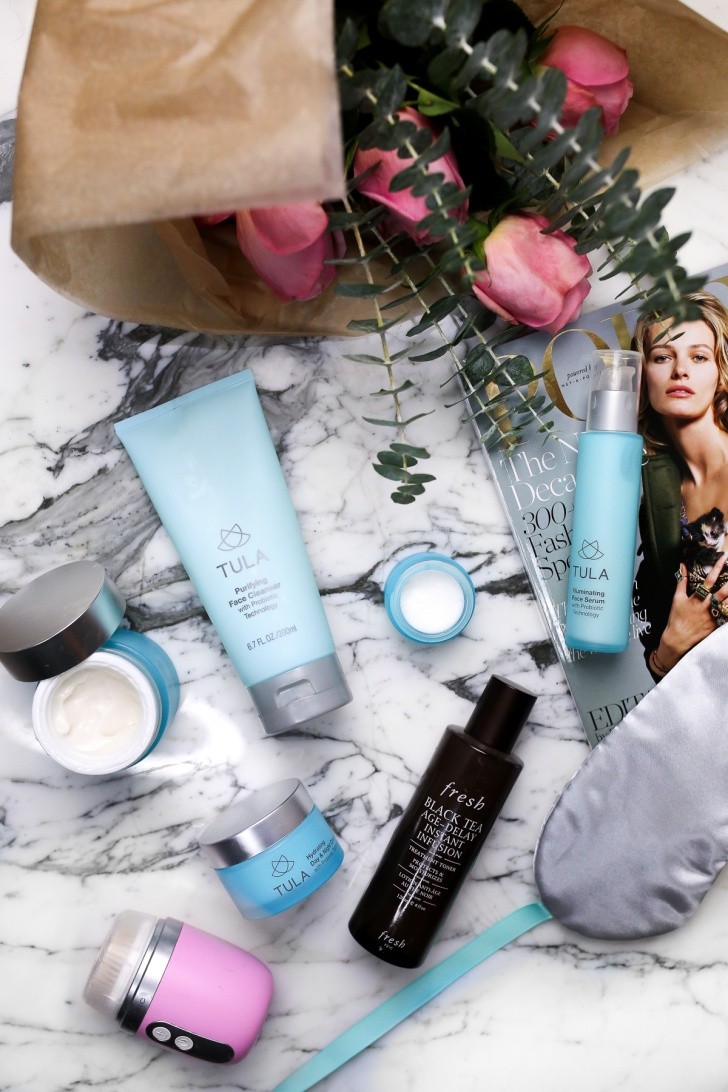 Happy Tuesday beauties! Let's talk skincare.
If you've been following me for a while now, then you know how much I love skincare.  I shared my "Anti-Aging Routine for Summer" and you guys loved it so much, that I thought it would be fun to share my updated fall and winter routine, too.
As the weather changes (cold weather = dry skin), I like to incorporate a few new products into my routine to add extra hydration and keep my skin glowing despite the colder temps!
I'm a big believer in really investing in skincare. Think of your skin as the base for everything else. More often times than not, people are willing to spend money on makeup and skimp on the skincare, when really it should be the other way around! I started my skincare routine a few years ago and am so glad that I did, but if you haven't started yet, then today's the day! Trust me, you'll thank me later!
A few tips
Find products and brands you love
All of the products and brands in this post are my absolute favorite! I've been using Tula for about a year now and have completely fallen in love. I've gotten so many friends and family hooked (including Alex, but shhh 😉 ). I emailed them when I got the idea for this post and they gave me a 25% off (+ free shipping) discount code for you guys! Whoop whoop! The code is only good for the month, so, for those of y'all wanting to try a few products, use code: Courtneyfall25 at checkout! 
Make it fun
I love pampering myself in the morning and at night. It only takes a few minutes, but I really enjoy the quiet, 'me time' and find myself looking forward to it.
Morning Routine
I start by washing my face with this, face wash. It is my absolute favorite! I feel like it really cleans out my pores and keeps my skin clear.
Then, I go in with a pump or two of this serum. I LOVE how glowy and even it keeps my skin!
Next, I moisturize my whole face with my favorite Tula Moisturizer. This one is my favorite because it actually sinks down into my skin and hydrates it all day (instead of sitting on top of it like so many others I've tried).
Lastly, I go in with a little bit of this eye cream and lightly tap in under my eyes, on my eye bone, with my ring finger. This really helps to keep the crows feet at bay and helps my concealer go on smoothly!
Night Routine
I take all of my makeup off with my Ponds Cold Cream. You can check out my 'Summer Skincare Routine' for the story on this bad boy!
Once I've removed all of my makeup, I wash my face with the same Tula face wash that I use in the mornings! I love using products day and night when I can – it helps simplify. I've gone through about 3 of these cleaners and honestly, don't see myself switching it up!
Recently, I've fallen in love with these cranberry toning pads by Arcona. They're packed with anti-oxidants and vitamin e that leave my skin feeling refreshed and extra clean! I also really love that they're in super convenient pads – no mess!
As the weather cools down, I like to add an oil into my routine to keep my skin plump and glowing. This one by Keihls is a miracle worker!
Next, I go in with this overnight treatment by Tula. I love how luxurious and creamy it feels going on and I always wake up with extra soft and hydrated skin! A total must in cooler months.
I finish my night-time pamper with the same eye cream I use in the mornings. I have super dry under eyes, and swear by this one!
This routine that really works for me and hope it can work for y'all too! It may look like a lot at first, but usually only takes me about 5 minutes max. morning and night and is really easy once you get the hang of it!
What are your must have products?