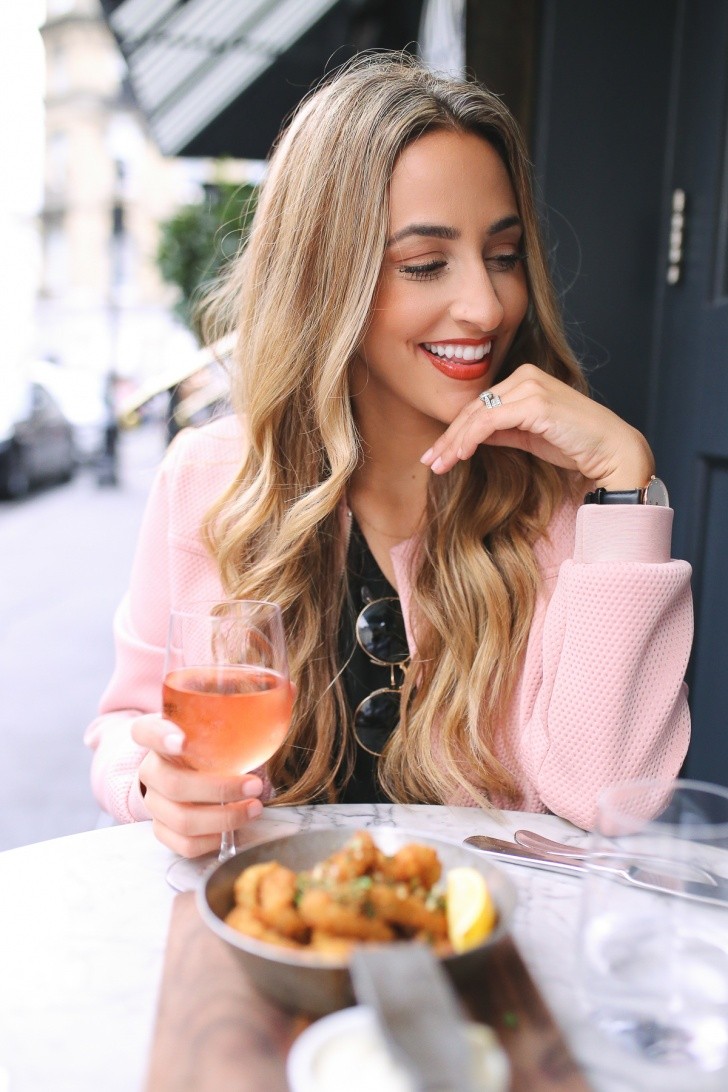 Good morning and happy Friday from Dublin!
When I packed for our trip, I did something that I rarely do and packed minimal makeup. Well, minimal for me anyways! I kept it as simple as I could for space reasons, but have found that not giving myself the options that I have at home has really help cut down my get ready time! Typically, I love having options and being able to switch it up, but while traveling, I like to spend less time getting ready and more time enjoying the sights and soaking in the culture! Instead of packing multiple bronzers, foundation etc., I narrowed it down and just picked one.
The week before we left for our trip, I was out restocking on a few staples and decided to try this powder foundation. I used it years ago, but it's been so long that I didn't remember much. I wasn't sure what to expect, because I typically don't like powder foundations, but you guys – I'm in love! It's an easy and quick to apply mineral (no parabens, synthetic chemicals etc.) and lasts all day on my skin! I've used it every single day on our trip and in doing so, have found a few products that I use with it to really help give the best results. So, I thought it would be fun to share my routine with you guys today!
1 / Prep
For me, prepping my skin is definitely key when it comes to powder foundation. I have a full video all about my skincare routine if you want to check it out here, but I like to start by moisturizing with my Tula serum and then the day cream.
2 / Prime
Next, I use a primer to give the foundation a nice smooth base! I've been using this one by Smashbox and love it! It's a silicon based primer and I find that it really helps to fill in any pores and make the foundation last all day.
3 / Foundation
I really can't say enough good things about this foundation! It just gives my skin such a healthy and 'skin like' look. I'm not usually one to buy the brushes that brands put out for foundations, but I got the brush that Bare Minerals makes specifically for this and I think it's a must! I have tried it with a few other brushes, and this one applies it the quickest and most flawlessly in my opinion. I also love that it has a short handle, so it's easy to pack and take with you!
BYOB tip: I like to apply a little bit at a time and really buff it into my skin! This way you never get too much in one spot. 
4 / Concealer
I finish up the routine with  this concealer to brighten my under-eye circles! I don't bring it down as far as I normally would, but instead I make a smaller triangle. I love blending it in with my beauty blender for the most airbrushed finish! Lastly, I set my under eyes with this translucent powder. I am really picky (and I mean REALLY picky) when it comes to under eye setting powders and love this one because it doesn't dry my skin out and give it that creepy look! It's great for travel and doesn't get all over the place like most translucent powders do.
BYOB tip: If you have any blemishes or spots you want to cover, I recommend concealing them before you apply the powder foundation. 
I don't know about y'all, but my skin tends to get a little bit 'off balance', aka crazy when I travel and I've had zero problems this whole trip and really think that this routine has a lot to do with it!
I hope you guys try this routine out and you love it as much as I do.
Stay tuned for a few posts about our trip :). In the meantime, follow along on Instagram and Snapchat – CourtShields87.