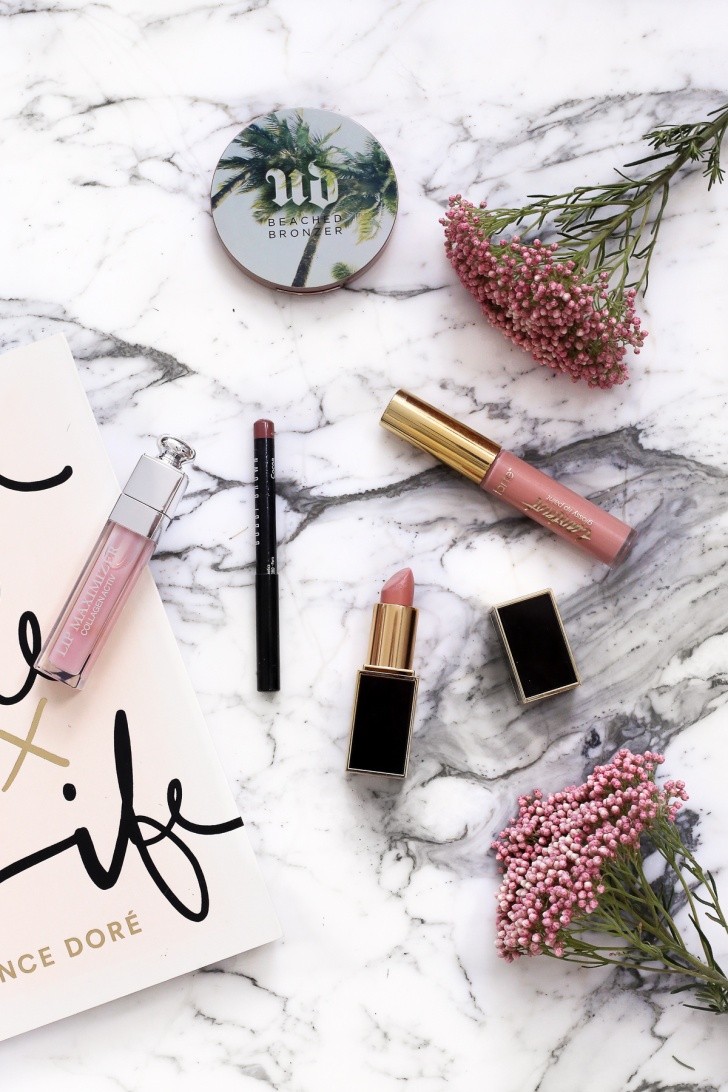 It's no secret that big lips are all the rage right now, and while some of us were blessed with luscious lips, other's (like myself), could use a little extra plump! Don't get me wrong, I love my lips! I like their shape, their light coloring and really don't mind the size, but it's fun to create the illusion of bigger lips when the mood strikes! Ah, the beauty of makeup.
In today's post I'm sharing all of my tips and tricks to creating nice and juicy lips, needle free! On most days, I don't do all of these tips I'll be sharing at once, but I wanted to show y'all the full arsenal! I encourage you to try them out and see which trick (or tricks) work best for you!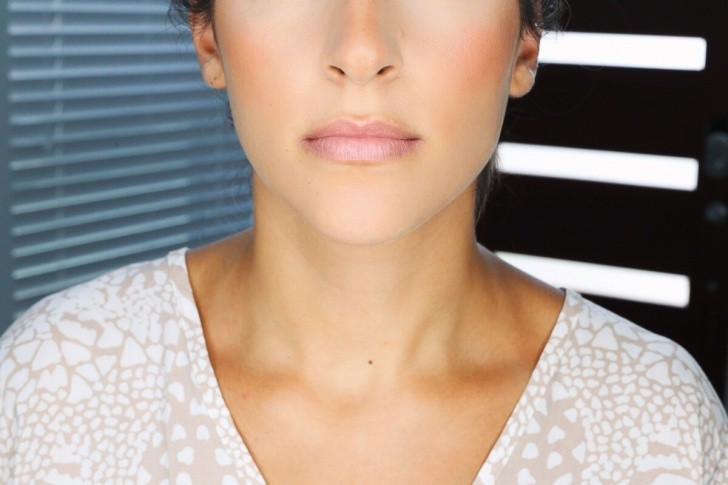 The above picture is my lips, au natural, for reference :). You can also see the natural nude outline on my top lip that I talk about later in the post.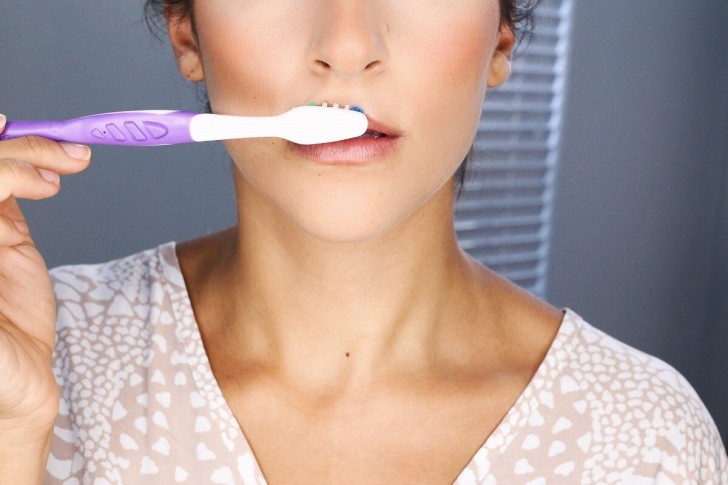 1 / Exfoliate
Let's face it, there is nothing cute about dry skin flaking off your lips. So, the first step to faking a plumper pout is to exfoliate! Not only does exfoliating your lips help flake away dead skin, but it also helps to get the blood flowing and give you a quick and easy natural plump!
There are plenty of lip scrubs made for this exact purpose, but I usually like to keep it simple and exfoliate my lips one of two easy, at home ways!
DIY lip scrub. To create this, I mix coconut oil and sugar. It's easy, inexpensive and totally does the trick! The sugar exfoliates my lips and the coconut oil nourishes. This little trick is great even if you don't want to make your lips look bigger!
The easiest, quickest and least expensive option: a good ol' toothbrush. With the toothbrush, you're missing the hydration of the coconut oil, but it's convenient and totally hassle free for my no-mess gals.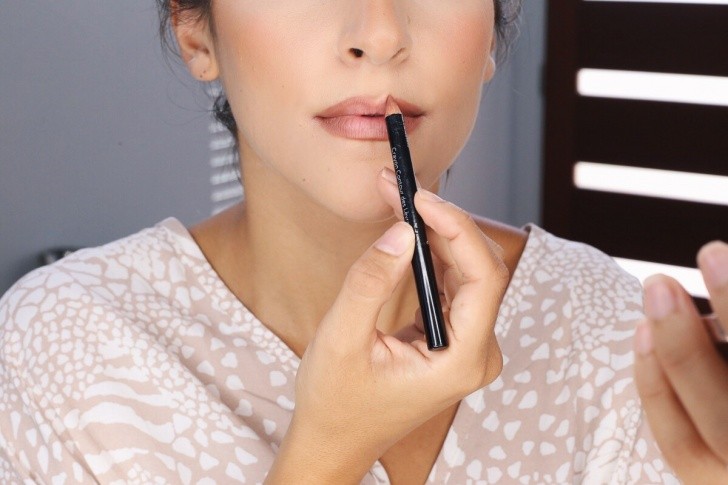 2 / Slightly over-line
Ok babes – we're about to navigate tricky waters. I've shared via my Snapchat that I like to slightly over-line my lips and you guys wanted me to share my tips! The key here, is to very very slightly over draw them so that they still look natural.
I'm not sure if any of y'all have this or if it's just my lips, but I have a light/nude outline on the top of my lip that is still raised and part of my lip, but not the same color as the rest (you can see it in the first above pic!). It's basically still my top lip, but it's lighter…that's what I line. If you don't have this, be even more careful and just very slightly draw over your natural line!
My #BYOBtip for this is to only focus the over-lining on the center of your pout! I line my lips to their exact natural shape on the sides and slightly cheat the cupids bow (the dip in the top center of your lips) and bottom of my center lip. Once you've over-lined, fill in the outer corners!
It's also very important to pick the right shade of lip liner! I recommend going for something about one shade darker than your natural lip color. I find that this helps it look the most natural! Today, I used this one in the shade 'cocoa', it's one of my favorites.
Once you've filled in the corners, go in with your lip color of your choice! I used this liquid lipstick in the shade 'friendship'. I like using liquid lippies when I want to to plump my pout, because I don't have to worry about it coming off when I eat and drink!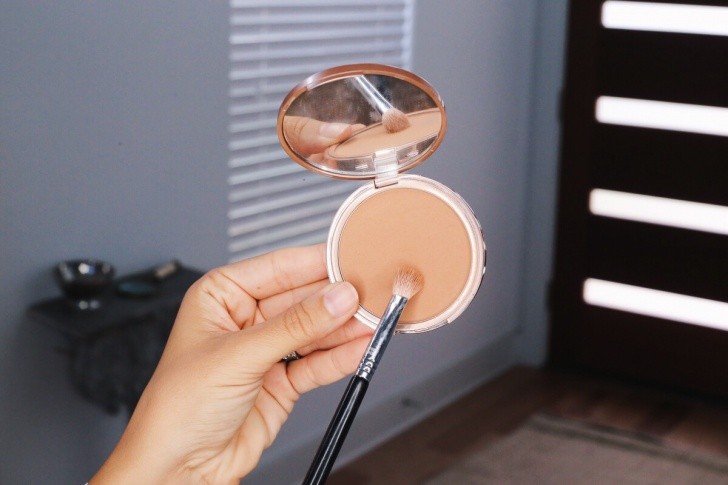 3 / Contour
By adding a slight shadow under the center of your bottom lip, it will help your lip look like it's coming forward a bit and create a little extra pout. I usually just grab whatever bronzer is close by! This one is a current favorite of mine! It's the perfect summery shade that adds just the right amount of warmth to my skin. The important thing here is to make sure the bronzer is matte and use a very light hand!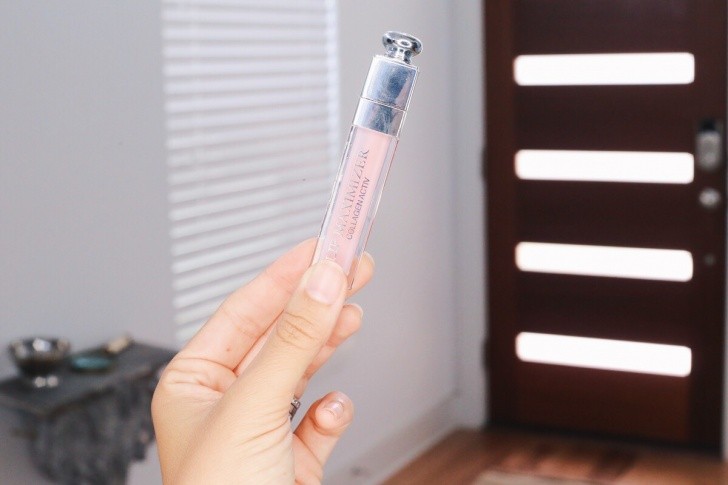 4 / I'm glossy!
There's just something so juicy about glossy lips! I have a few favorite glosses, but this one is my favorite because it has collagen for that extra boost of plumpness!
5 / Pop of light
Just like we added a little shadow underneath the bottom lip, adding a slightly lighter shade in the middle of your lips helps bring them forward and create the illusion that they're bigger! You can do this step with either a lipstick or a gloss.
Do you guys have any tips for making your lips look bigger? Leave them in the comments below! xx