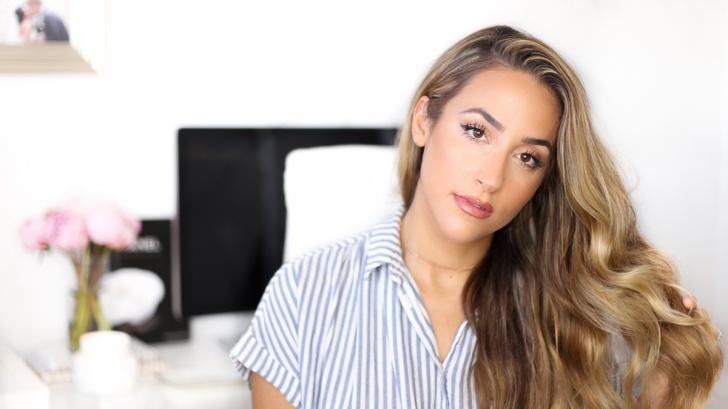 Hi beauties! Today, I'm sharing "My Everyday Summer Foundation Routine" with you guys. Of course I don't wear makeup everyday, but when I do this has been my absolute go-to routine. It's easy (and quick) protects my skin from the sun, looks fresh, bronzed and lasts all day! I'll switch up the bronzer and blush combo, but everything else has pretty much stayed the same!
I used a few different tips and tricks along the way that really help to lock the makeup in place and make sure it doesn't budge it all of this summer heat! Let's just say that this routine is 'Texas heat approved'. I wanted to do a little something different with the video today. Instead of just posting a video of just a blog post, I thought it would be fun to combine the two and have a little something for everyone! I know some people prefer posts where they can read, and others love the visual of a video, so today is a little something for everyone :).
Step 1 / Prep
Spray your whole face with this setting spray. Although this is typically made for setting your makeup once it is done, today we are doing a little bit of a setting spray sandwich and using it before and after! This really helps to lock everything in and for me, totally help my makeup last all day long.
Step 2 / Prime
Now is when I go in with my primers. Lately, I've been using one in the t-zone and one to add glow on the rest of my face. I start with this smoothing primer (it really helps fill in any pores and has a slight mattifying effect) and then, I add this one to the outside for a little extra summer glow!
Step 3 / CC Cream + SPF
One of my favorite steps of the whole routine – I go in with my current favorite CC cream and apply a thin layer all over! This stuff is amazing! It has the perfect amount of everyday coverage (medium), lasts all day, has SPF 50 and doesn't feel heavy in the heat. I start by using my fingers and then finish it up by blending it out with the beauty blender.
Step 4 / Correct + Conceal
My under eyes need a little extra help, so I start by using a peach toned corrector (this one is my summer favorite) to cancel out some of the darkness! Then, I go in with my concealer in a triangle shape, down the bridge of my nose. Lately, Ive been loving the Maybelline Fit Me Concealer! It's super affordable and lays really nicely on the under eyes.
Step 5 / Setting
It the summer especially, I like to set my face so that the makeup lasts all day long! I start by setting my under eyes with my all time favorite under eye powder, this one by Hourglass in the color "Incandescent Light" and then set the rest of my face with the Hourglass Ambient Lighting Palette.
Step 6 / Bronzing
In this video, I used one liquid bronzer and then layered two powders to really add a lot of dimension and give you guys some options! The key here is to use very little product at a time – It's always better to build and add, lightly layering is the key to a natural bronzy/sunkissed look! I started with this liquid, then layered this and this.
Step 7 / Blush + Glow
I tend to change these products up, but I like to add a little pop of blush to bring a natural flush back into my skin and then hit the high points of my cheek bones with a bit of glow!
Step 8 / Set
To finish off the look and make sure everything lasts all day in the hot summer temps, I go back in with the final and one of the most important steps in my summer routine, the setting spray!
I hope you love this routine as much as I do! Make sure to tag me if you try it out 🙂
What do you want to see next?