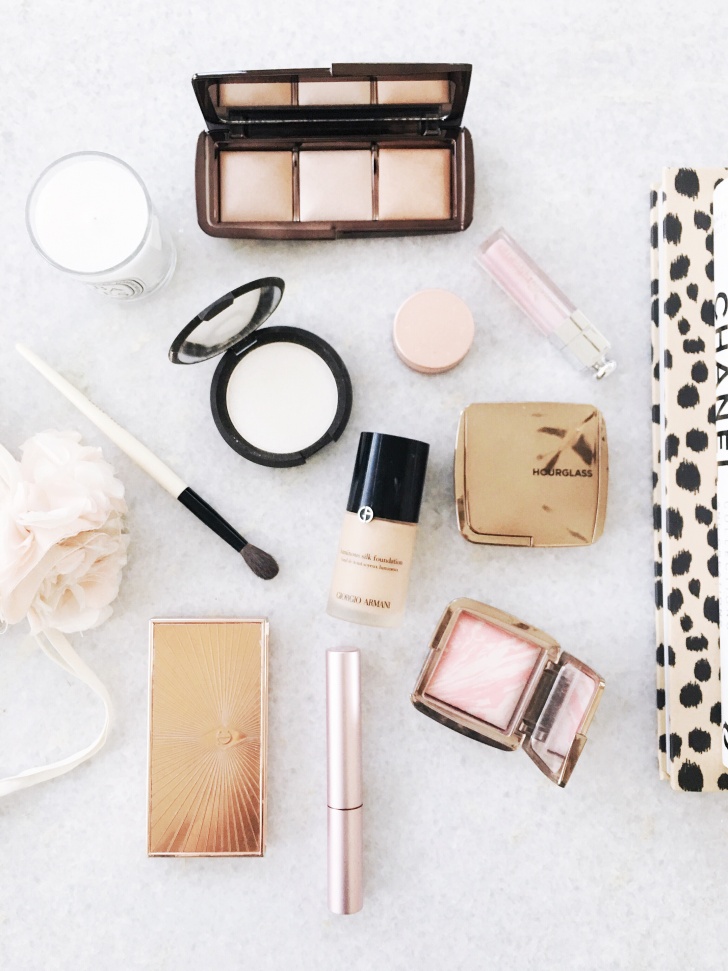 Hi friends! Welcome to my first post of 2016. I'm excited to add more beauty back into the blog this year (video as well as posts), so I figured what better way to kick off the new year than with my Best of Beauty 2015. I've you've been following the blog for while now then you probably know how much I love beauty. I tried a ton of new products last year and these have become my absolute favorites. These are the best of the best, the tried and true, all of the products that I reach for constantly. I'll also be sharing why I love each product and in some cases how I use them 🙂
And the award goes to…
Hourglass Mineral Veil Primer – This is the primer I reach for when I don't want to have to think about what I'm doing. It's easy, reliable and always looks good.
Nivea Men Post Shave Balm in Sensitive – Ok, you are probably reading this like, say whaaaat? I saw Nikki Tutorials talk about using this as a primer and I am so glad I tried it. Tip: Rub it into your skin until it feels kind of tacky (that's what makes it help the foundation last and stick) and it works wonders. It truly makes my makeup last all day, and I believes it's like $6, when most primers range from $30-$50, so… winning.
Giorgio Armani Luminous Silk Foundation – I've tried a ton of foundations this year and I keep coming back to this one. The runner up would definitely be the Make Up For Ever Ultra HD, but nothing has yet to dethrone Luminous Silk in my book.
Becca Under Eye Brightener – When you have dark under eyes like I do, it's important to take the extra step of correcting before you conceal.  This little baby has been my favorite corrector of the year. It's a nice peachy-pink color, perfect for counteracting the blue and purple tones that dark circles tend to have and it has little pearlescent reflectors that bounce light back making the under eyes appear brighter. Also, if any of your concealer wears off, the corrector is underneath so the circles won't show through.
Urban Decay Weightless Concealer – I can't say enough good things about this concealer! I have searched for years (and I do mean YEARS) for the perfect concealer and finally, I've found the one. It has amazing coverage but it's thin and doesn't crease. If you have dark under eyes, this is a must!
Hourglass Ambient Lighting Palette – This might be my favorite product of the entire year. I have fallen so in love with these powders it's crazy. It has become an absolute holy grail product me – if you want to see exactly how I use each color, see this Instagram caption.
Laura Mercier Translucent Powder – This powder is perfect for "baking" after you've contoured your skin (for a full glam night or special event) and gives a beautiful matte finish. I don't use this to set my whole face because I am normal-dry but if you have combination or oily skin, you'll love it to set your whole face!'
Charlotte Tilbury 'Film Star Bronze & Glow ' Face Sculpt and Highlight – This is a little duo that matches it's name perfectly. It has two colors, one to bronze/contour and a the other a light gold to highlighter. The contour shade in the duo is just perfect! It's light enough where it looks natural, has enough gray to help it look like a shadow (like a good contour should) and enough warmth to not look too ashy. I have tried almost all of the contour palettes on the market right now and while I do absolutely love them, if you are a girl who isn't a makeup artist, I think this would be a better fit. Why? Contour palettes have multiple shades for multiple different skin types and that's great if you're doing other peoples makeup etc. but for yourself, one shade will do the trick! I've found this color to be very universal (I've tried it on my blonde haired, fairer skin girlfriends and it looks great on them also!) and it's also a lot easier to travel with because it doesn't take up nearly as much space as the bigger palettes do.
Hourglass Ambient Lighting Bronzer – This bronzer has completely stollen my heart. It gives a beautiful glowy look to the skin and adds a lot of dimension and depth, while warming up my face up perfectly. I use the lighter of the two shades – they are very pigmented and a little bit goes a long way!
Mac "Give Me Sun" Bronzer – I love this bronzer for light/natural makeup days because it adds some color to my skin but looks nice and natural. It's matte and goes on very smoothly! I have olive skin and this works perfectly for me, it might pull a bit orange on super fair/pink skin so try if that is your skin tone, I recommend trying it first.
Hourglass Ambient Lighting Blush in Incandescent Electra – This blush just gives the most beautiful, everyday glow. I also love the color "Mood Exposure".
Becca Cosmetics Highlighter in "Champagne Pop" and "Pearl" – Not much needs to be said about these highlighters, they are stunning! Champagne Pop looks stunning on all skin tones and if you are my skin tone all the way to very fair, "Pearl" will be your new best friend. This is a straight up white highlight that not play, it will have you glowing in the dark! A little bit goes a long way, but it so beautiful. Tip: I also love using this to highlight the inner corners of my eyes!
Laura Mercier Matte Radiance Baked Powder in "Highlight 01" – This is the most underrated highlighter on the market in my opinion. This is the highlight I reach for when I want to look like I am glowing from within. It's SO beautiful and radiant, yet more on the subtle side and daytime appropriate. It gives the most beautifully diffused, angelic glow. If you're my skin tone or more fair, I think you would LOVE this highlight. It's hard to explain, but it just does something fabulous when it's on my skin, trust me – try it!
Kat Von D Liquid Liner in Tropper (black) – This is my everyday go-to for liner. It's really black, easy to apply and the point is nice and thin. Liquid eyeliner has defiantly become my favorite type of liner this year!
Mac Chromagraphic Pencil in Nc15-Nw20 – This is a light nude eyeliner that I love to use to line my waterline with! Tip: Using a nude liner in your water line will open up your eyes and make them appear bigger and brighter.
Lancome Cils Booster XL – This is a base for your mascara that helps make your lashes extra think and long. I'm totally hooked on this stuff! I get a ton of questions about how I get my eyelashes looking really long and thick and this is one of my holy grail products (followed by the mascara below). Basically, I coat my lashes with this lash conditioner and then let it dry for probably about 30 seconds – you want it to dry a little so it really grabs onto the mascara with you apply it on top. Tip – let it get a little tacky and then apply your regular mascara. If you put your mascara on directly after the primer it was all just get mixed it together and the primer won't really get to do it's job.
Too Faced Better Than Sex Mascara – I am madly in love with this mascara. I love everything about it, including the fluffy brush, highly recommend trying this is you haven't already! It goes perfectly with the Lancome primer.
Mac Lip Liner – 2015 was a big lipliner year for me but my most used colors were probably – "Soar", "Whirl" and "Stripdown".
Urban Decay Chill Makeup Setting Spray – This is a makeup setting spray that helps your makeup last all or night. Think of it as hairspray for your face! Spray it all over your face after all of your makeup is done and it locks everything in place. Tip – it also helps to make the powders on your face less 'powdery' and more
Well my friends, that's it for my Best of Beauty 2015. I change my lip color and eyeshadow up way to much to even try to narrow those down haha, but the rest are my absolute favorites. What are your favorites? I'd love to hear in the comments!