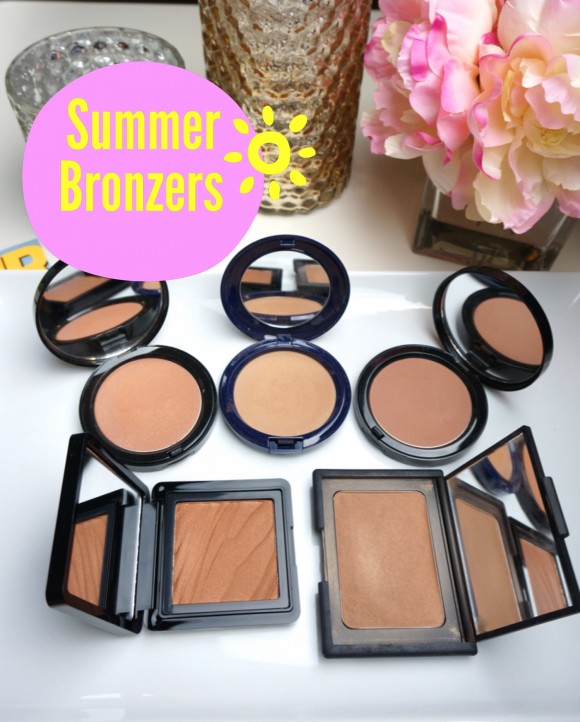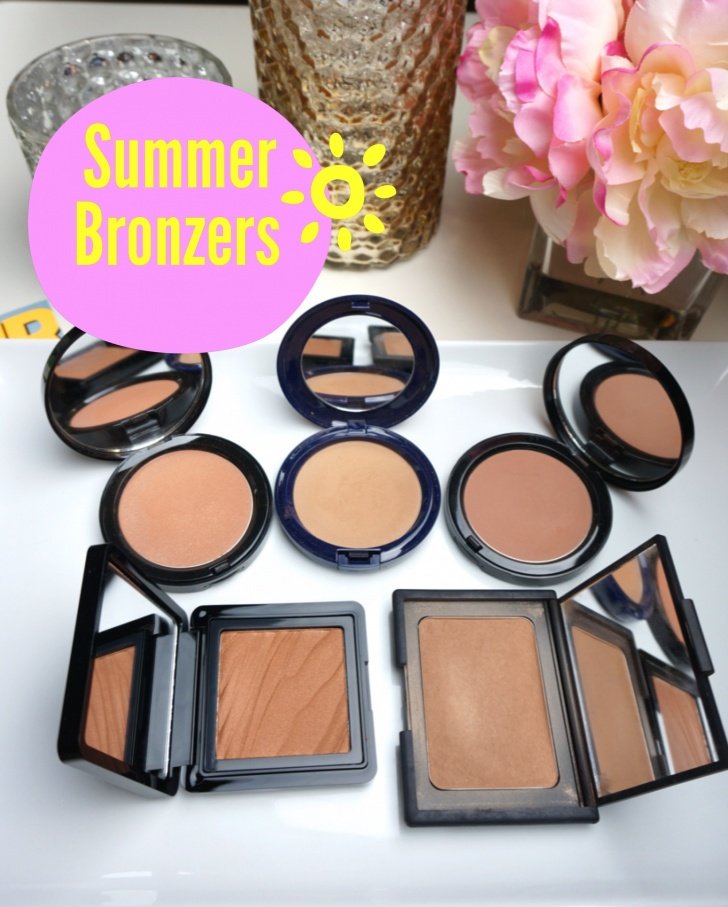 Happy Friday! Another week has come and gone and I still don't know where the time is going?! The hot texas temps have me on a bit of a bronzer kick lately because let's be honest, no summer beauty week would be complete without an amazing bronzer. There are 4 main things I look for when searching for the perfect summer bronze…
1. Color – In the summer I'm usually looking for a brown/golden color. I also like red toned bronzers for summer time because they mimic the look of sun with their subtle red undertones.
2. Texture – I want something that is lightweight and blendable but buildable. This way, in the beginning of the summer when I am lighter, I can be light handed and as the summer goes on and I get darker, I can build the color up as desired.
3. Glow factor – It the winter I steer clear of bronzers with sheen but done right in the summer  (with a light hand) they add a welcomed sun-kissed glow and bring the perfect amount of brightness and warmth to the skin.
4. Stay power – A summer bronzer should have some staying power to outlast the summer temps.
Here are a few of my favorites…
 1. Buxom – Hot Escapes Bronzer in Maldives
This is the newest addition to my collection and already one of my favorites. It's a beautiful brown shade with a golden sheen and a perfect coconut/beach smell that instantly transports you to the sand and sunshine. You can apply this sheerly or build it up depending of what your going for. The shimmer is very finely milled so it's more of a golden sheen – so pretty!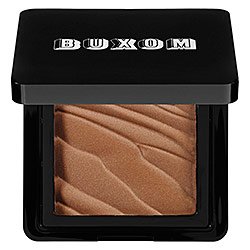 2. Bobbi Brown – Illuminating Bronzer in Bali Brown
This is a beautiful bronzer with small gold shimmer in it. You can see the shimmer, unlike Maldives (which is just a gold sheen) but it blends out effortlessly and has such a beautiful effect on the skin. The shimmer blends out and just adds a glow – This is beautiful applied lightly as a bronzer/blush combo.
3. Mac – Pro Longwear Bronzer in Sun Dipped
The consistency of this bronzer is amazing, so buttery and creamy. Sun Dipped is described as a dirty red tone but to me it's more of a light-medium brown/tan with yellow undertones and a golden sheen to it. It sinks into the skin and even though it has a fine golden sheen it ends up looking really natural. You can wear this very sheerly or build it up depending on your skin tone and it lives up to its promise of being long wearing. As you can probably tell by the super cute packaging, this was limited edition (from the Sailor Summer 2013 collection) but If you're interested, I found it on amazon here.
4. Bobbi Brown – Bronzer in Medium 2
Thus far I've talked about bronzers that will make give you that gorgeous golden glow – *However, when contouring, you want to make sure and use a matte bronzer. Bobbi Brown Bronzer in Medium is perfect for that. It's a matte brown with red undertones that does a beautiful job of giving a natural sun kissed look that's perfect for summer! I love love love this bronzer, it is defiantly one of my favorites at the moment!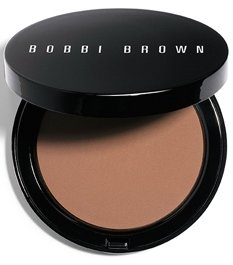 5. Nars – Bronzer in Laguna
This is a Nars cult favorite and for good reason. Laguna is a definite staple in my bronzer collection, if you don't own this bronzer you should! It's a true medium-dark brown based bronzer with a golden undertone and a satin finish. This is the epitome of a summer bronzer.
Swatches…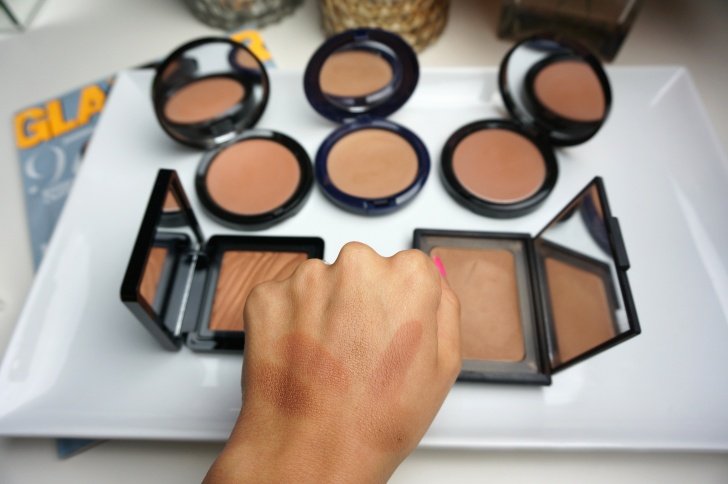 Shop this post…
Buxom Maldives / Bobbi Brown Bali Brown / Mac Sun Dipped / Bobbi Brown Medium 2 / Nars Laguna
Although a lot of these do have a golden sheen, rest assured, none of them will give you glittery cheeks! They all blend out to give that perfect summer bronzed glow. For the purposes of this summer inspired post, I mostly stuck to bronzers that were golden brown and would make you look nice and sun-kissed but if your looking to contour, I would try the bobbi brown in medium, or this or this. If your on the fair side, try this.
Whew, that was long! Hopefully this post will help you pick the perfect summer bronzer 🙂 As usual, feel free to ask me questions in the comments below and I'm happy to help you if you can't choose what will be best for your skin!
Things are a bit hectic with our wedding in almost 1 week ( :)!!!) but I do still have plenty more summer inspired posts in the near future (bb cream/tinted moisturizers, blushes, fav foundations etc.) so stay tuned.
Do you have a summer must-have bronzer that I need in my life?
xo, Court