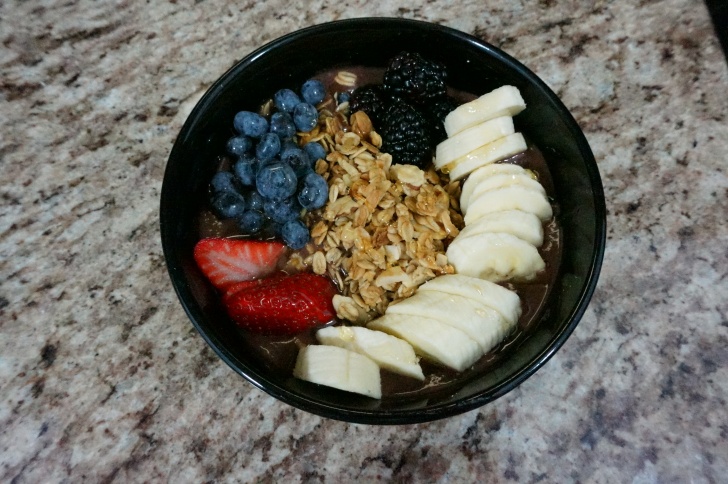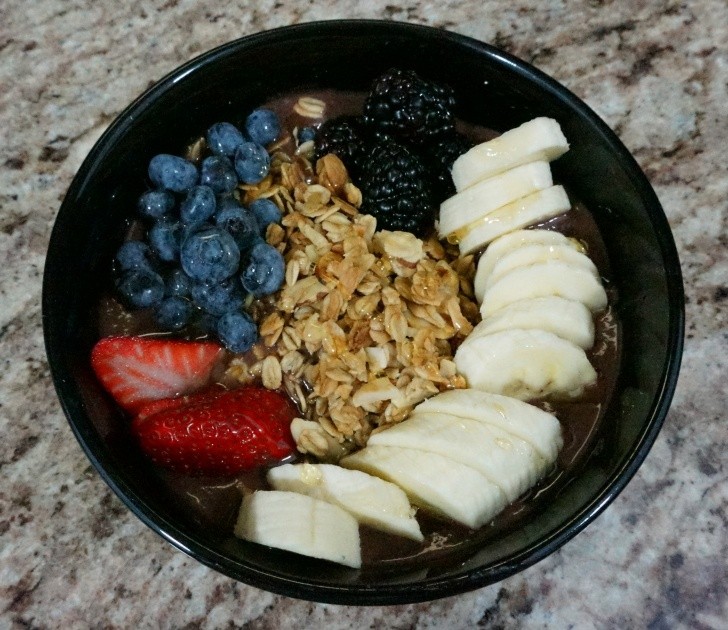 I was first introduced to Acai Bowl a few years ago, when Taylor, my sister from another mister (aka. my MOH) was living in Cali. She had been raving about them since she moved and I couldn't wait to try them. I went to visit her, she took me to get my first acai bowl and let's just say… it wasn't the last that trip! Unfortunately, Dallas doesn't have cute stands selling these antioxidant packed treats on every corner like Cali does, so I figured I better learn to make it myself! Pronounced "Ah-sigh-ee", acai is a dark purplish/blue super-berry that is not only very healthy but super delicious.
Here's what you need
2 of the Pure Acai Berry, unsweetened smoothie packs, no sugar added. The brand I used is called Sambazon!
Some liquid – I used coconut water because that's what I had, but apple juice or orange juice is also great!
2 bananas
1 Strawberry
Blueberries and/or blackberries
Granola
Honey
How to make it
Put 2 packets of the Pure Acai Berry, 1 banana and a little coconut water (or apple/orange juice) in the blender.
Blend!
Pour mixture into the bowl of your choice 🙂
Top with granola and berries
Drizzle with honey! I like to make a pattern, but you do you!
You can literally eat these any time of the day – Breakfast, lunch, snack or desert! If you do want this is a sweet treat, you can leave it as is, or add mini dark chocolate chips and coconut! The possibilities are endless, so feel free to get creative with it!
Have you tried an Acai Bowl? How good are they?! If not, get yourself to the store because you are missing out!